Back To Business: The Kenmore Ballroom
October 28, 2021
Though she grew up in Massachusetts and California, Katie O'Malley Maloney has long-standing ties to Albany.
In 1998 – then just Katie O'Malley – she was crowned the City's 50th anniversary Tulip Queen, an experience she says taught her how to be a better leader and left her with a sense of responsibility to make the biggest possible impact on the community and its residents. The position also involved fundraising, events, and local outreach, which, unbeknownst to her at the time, would help set her on a professional path.
Just few years later, O'Malley officially started her career in the hospitality industry, landing a job as an event manager at the now-defunct Jillian's on Pearl Street.
When O'Malley decided to go into business for herself as a wedding planner in November 2009, she looked for an affordable space in downtown Albany, but couldn't find something that worked. So, Katie O's Weddings and Events ended up headquartered in Troy.
A decade later, an opportunity presented itself that O'Malley and her husband, Nate Maloney, couldn't pass up – working with Redburn Development Partners to transform the historic Rain-Bo Room at the former Kenmore Hotel into a modern events space, which just so happens to be located across the street from where the old Jillian's used to be.
"(Redburn) said to us, 'We have this space, and we don't know what to do with it; we could throw a pool table into it, or you could take it over,'" O'Malley Maloney recalled. "Everything they said was everything I believed. They knew what needed to happen for another Albany renaissance. They're passionate, driven, and dedicated. How could I say no?"
She saw big potential in the 15,000-square-foot space. The Rain-Bo room once hosted the likes of Duke Ellington, Benny Goodman, and other famous acts of the time. It had fallen into disrepair, but O'Malley Maloney could see how the once-glamorous ballroom could be brought back to life. And Redburn was willing to give her, her husband, and their Vice President of Operations, Casey Benson, free rein over the design of what would become The Kenmore Ballroom.
Quite simply, she said: "I got to build my dream venue."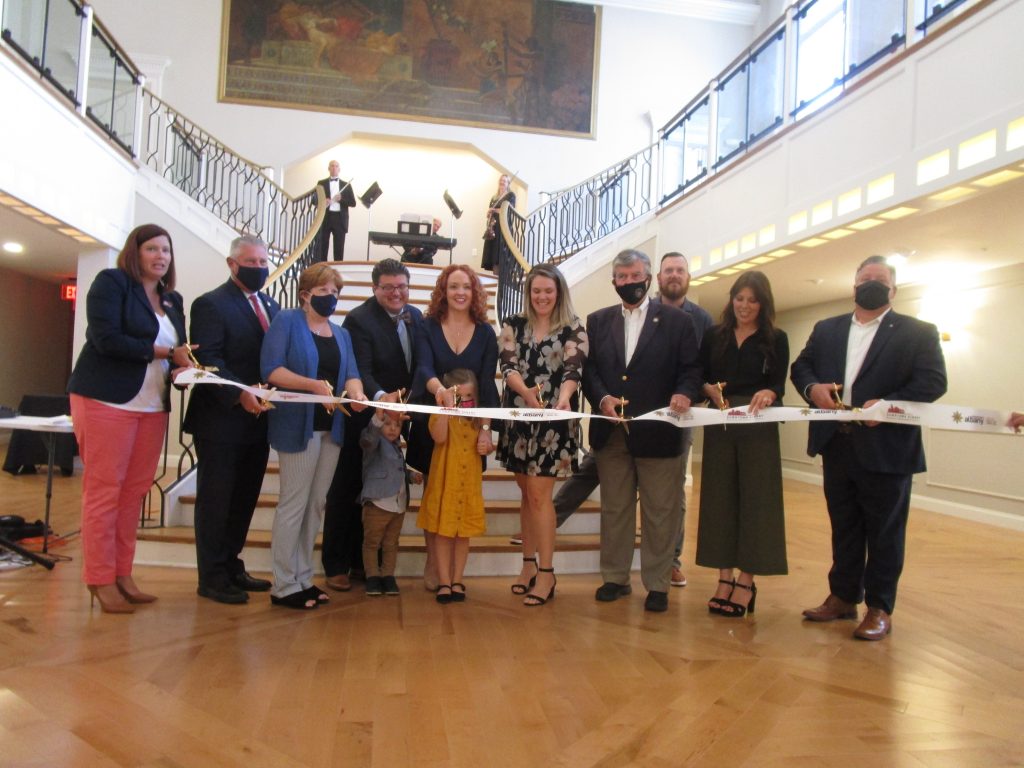 The ballroom at 76 N. Pearl St. is now up and running and celebrated its official grand opening in September. But the road to that day was long and full of unexpected challenges, thanks to the coronavirus pandemic.
Six months after the Maloneys signed the lease for the new property in September 2019, the state was on lockdown, with all but essential businesses shuttered in an effort to curb the spread of COVID-19. The original plan, which was to have the space finished and ready to go by April 2020, had to be delayed – even though events were already booked for June 2020.
"I'll never forget it," O'Malley Maloney recalled. "I had just gotten off a call with a mother of the bride, and I was trying to run a venue and plan weddings in the middle of a pandemic. Then the governor shut down all work. I did the crying thing. I told my husband: We could cut and run. But there were two things I couldn't let go: Redburn's belief in me and my team, and my five-year-old daughter, Grace and three-year-old son, Charlie. I couldn't say to them in 10 years, 'It got hard, so we quit.'"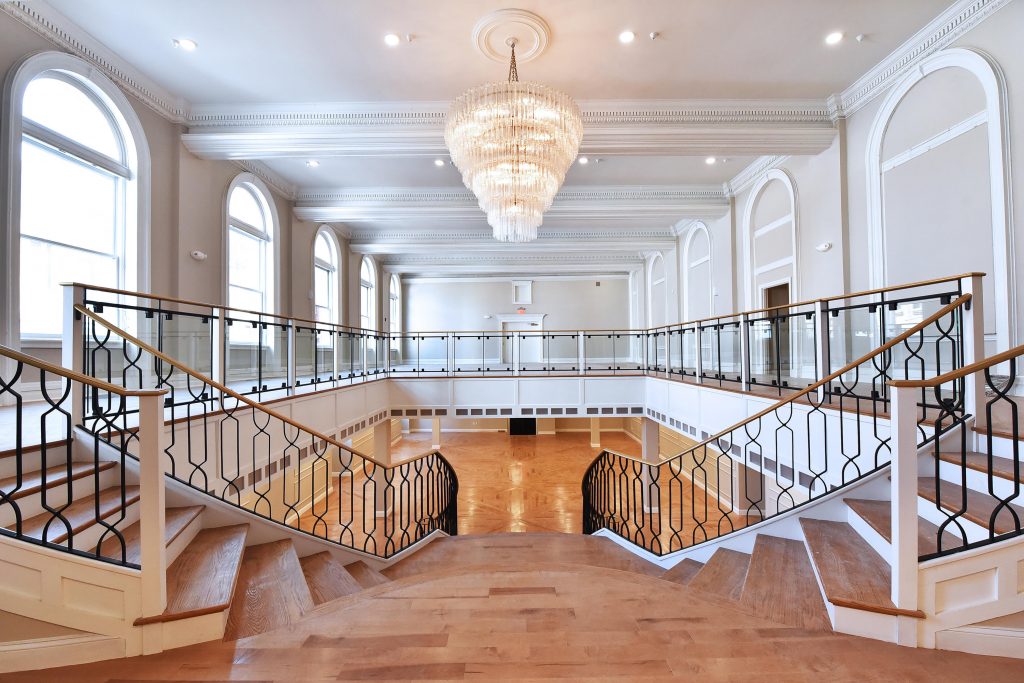 "We were in it," she continued. "We had put so much time and energy in. We believe in this community. We believe in downtown. We're committed to its success. So, we stuck it out."
Administered by Capitalize Albany and made possible with support from the City of Albany IDA and the Albany Community Development Agency, The Kenmore Ballroom was awarded a Small Business Adaptation Program grant. The grant supported marketing efforts to allow the venue to market itself and operate at smaller capacities as well as assisted with the purchase of PPE and other equipment to support the health and safety of employees and guests.
Though the big red-carpet grand opening that O'Malley Maloney envisioned could not be held due to ongoing COVID-19 restrictions, events are taking place again – especially weddings. The pent-up demand from couples who put off their nuptials is significant, O'Malley Maloney said, and this fall she has seen twice the number of weddings as any other time in her career.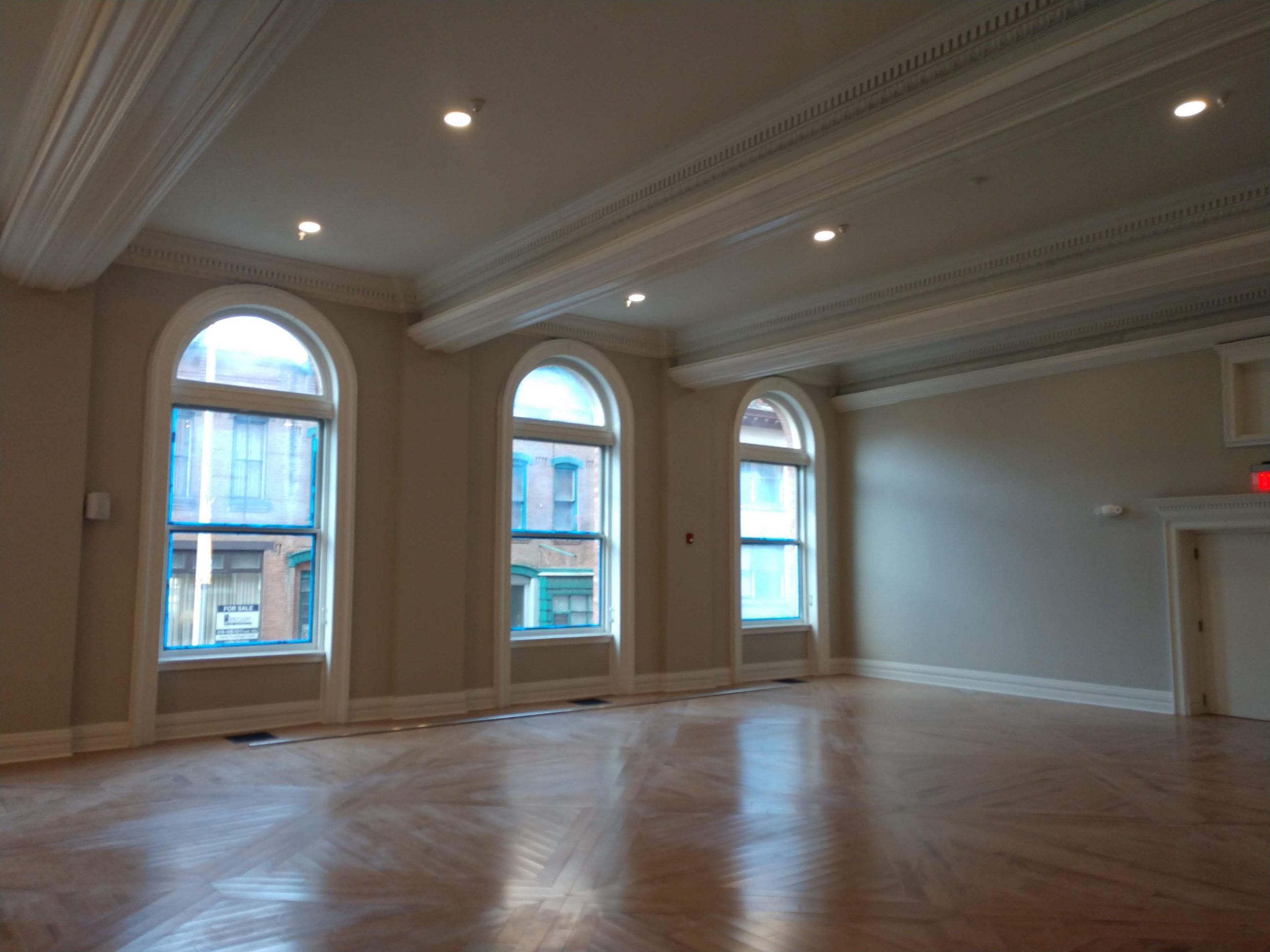 "I have enough staff, thankfully, but not enough time in the day," O'Malley Maloney said. "The industry can wear on you, especially this season. But it's amazing that every weekend I get paid to do what I love. I am not really working – it is my absolute joy."
The Maloneys have big plans for The Kenmore Ballroom and are hoping to make it a space that it deeply connected to the local community, giving back to local businesses and the arts.
"We never intended for this to be just a venue for events on the weekends," O'Malley Maloney said. "We believe in downtown and the future of it. I knew it wasn't going to happen overnight. I just didn't realize I was going to be operating under a pandemic for a year or more. But even being here when it was under construction and watching it evolve, and seeing people walk their dogs and do their day-to-day, it was really very cool."