Clinton Market Collective Construction Bid Opportunity, Information for Contractors, Trade Experts
January 3, 2022
Capitalize Albany Corporation is now seeking bids for construction of its Clinton Market Collective project. TW&A Construction Management, a New York State Women-Owned Business (WBE) is serving as the construction manager for the project. Construction bids for the Clinton Market Collective will be due at 2:00 P.M. on Friday January 21, 2022. Bids received after this time will not be accepted.
The work at 11 Clinton Ave. in downtown Albany, transforming the existing park into Clinton Market, includes creating a new gateway and open-air market for downtown containing performance stages, seating, concession structures, swing structures, an aquatic splash park, new paving, new plantings, site lighting, electrical power distribution, and other improvements. This opportunity is open to qualified contractors and firms of all sizes, a range of work and expertise will be required including flatwork, electrical and plumbing. The project will be let in a single prime contract for general construction, however subcontracting opportunities are expected.
This currently underutilized park is located at a key gateway to the City of Albany that greets more than 20,000 people daily who arrive into downtown. Its premier location presents a distinct opportunity for redevelopment into a productive and vibrant destination. The park is bordered by Clinton Avenue on the south, Broadway on the east, North Pearl Street on the west, and the Leo W. O'Brien Federal building on the north.
A pre-bid meeting for contractors will be held on Monday, January 10, 2022 at 1:00 PM at the Clinton Market Collective project site, 11 Clinton Avenue, Albany, NY 12207. Attendance at the pre-bid meeting is mandatory for submitting a bid. Minority- and Women-Owned Business Enterprises (MWBE) and Service-Disabled Veteran Owned Businesses (SDVOB) construction firms are encouraged to attend.
Additional detailed instructions for bidders are available, here.
If you have questions or would like more information on the bidding process, please email TW&A Construction Management at [email protected].
Complete sets of Bidding and Contract Documents in electronic or printed format are available at Camelot Print and Copy Centers, 630 Columbia Street Extension, Latham, NY 12110, Tel: (518) 435-9696; e-mail [email protected]; online at: Clinton Market Collective – #51877 :: Camelot Print & Copy Centers Online Planroom (camelotplanroom.com).
Bid and Contract Documents may be examined without charge by accessing the above Camelot plan room link and clicking on the Public Projects tab at the top left. To obtain the Bid and Contract Documents, all Bidders must register at www.camelotplanroom.com, log into their account and place an order for a digital download of the complete electronic set of Bidding and Contract Documents for the fee of $15.00.
About The Clinton Market Collective Project And Revitalization of 11 Clinton Ave
As part of its display at 11 Clinton Ave. Capitalize Albany Corporation unveiled final designs for its Clinton Market Collective project based on feedback from hundreds of Albany stakeholders with immersive and virtual on-site views in December during the Downtown Albany Business Improvement District's Hot Chocolate Stroll event. The project is a focal point of the City of Albany's Clinton Square Downtown Revitalization Initiative (DRI).
View #6 The Palace Landing – Daytime
As part of New York State's third-round $10 million DRI award, the $1.6 million design and construction of Clinton Market has been funded by the New York State Department of State, National Grid and Capitalize Albany Corporation. The project concept was developed by hundreds of stakeholders who participated in the Downtown Revitalization Initiative planning process and was designed by Schenectady-based landscape architecture firm PLACEAlliance.
This project will ultimately result in the redevelopment of 11 Clinton Ave. – a former roadbed – into the Clinton Market Collective — a new market concept and proving ground for startup businesses, diverse pop-up retail, installments by local artists, and signature events. Its design will create a welcoming vibrant space, enhance pedestrian connections, and anchor Clinton Square's role as both an engaging destination and an introduction to the city's unique local neighborhoods, arts and commercial venues.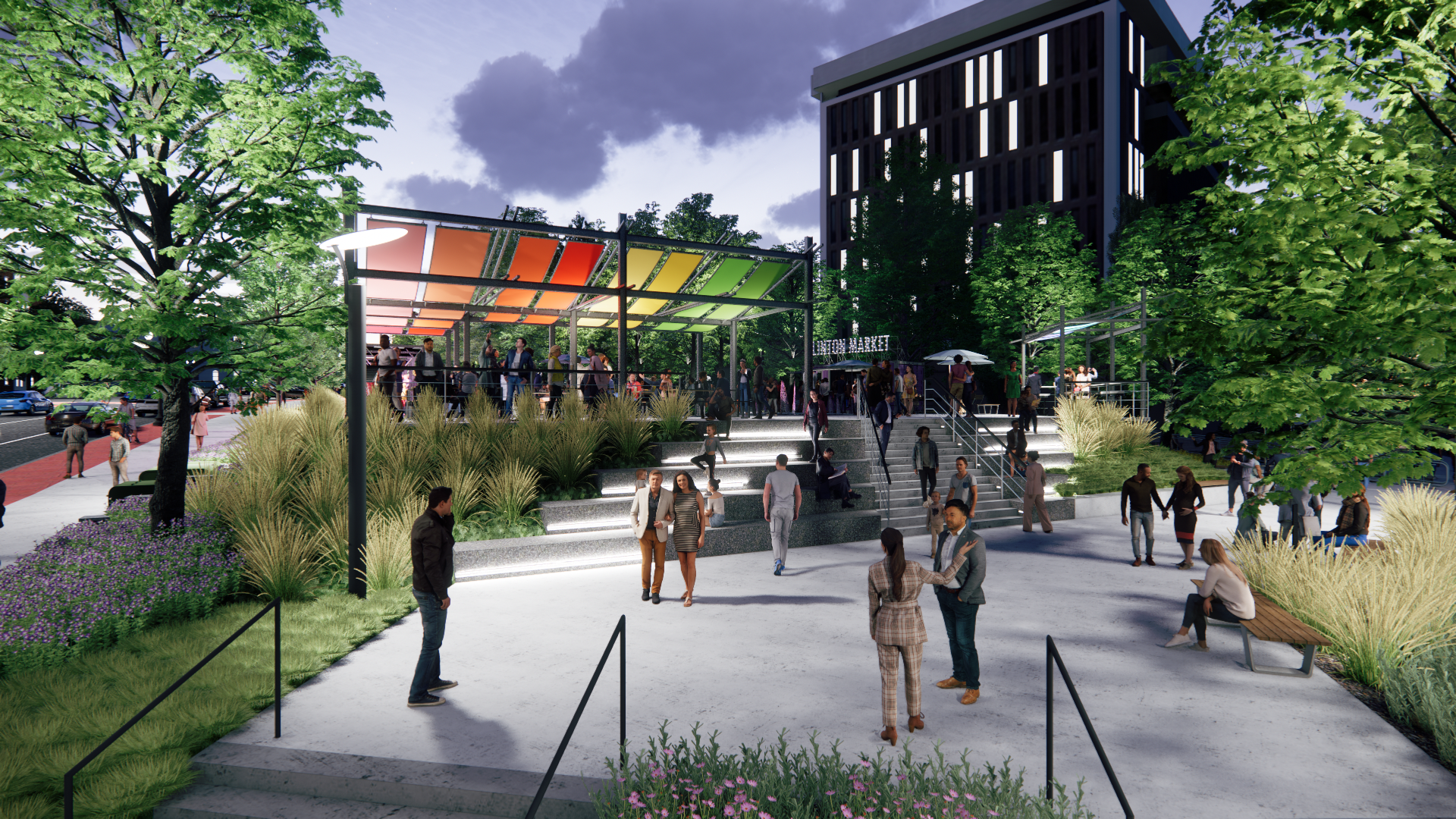 The views released in December render the final designs for the project's construction, which includes semi-permanent vendor space in specialized shipping containers, architectural lighting, enhanced accessibility, pop jet fountains and outdoor seating.